Mark Montgomery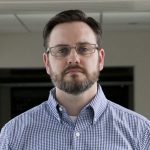 Business Name:
Mark Montgomery
Profile:
Mark is the Multimedia Coordinator at the Department of Public Information in Springfield, Missouri.
Mark is an old soul from the suburbs of Kansas City. Americana is his jam. Some of his greatest inspirations are Jazz, Roots/Americana music, Movies and Barbeque. He loves baseball, but not to watch it or follow … more the folklore and imagery surrounding it. Does that make sense? Also his artistic heroes (and some Facebook friends) include the likes of Pablo Picasso, Al Hirschfeld, Thomas Hart Benton, Andrea Ventura, David Cowles, Steve Brodner, Pablo Lobato, Robert Risko, Philip Burke, and many more. He loves faces and how a humorous portrait or caricature can reveal so much more about a personality than any posed photo ever could. He is a strong believer that illustration will once again rule the world (in his lifetime). He works as a graphic designer at the City of Springfield and lives in Springfield, Missouri with his wife and two kids. In his spare time, Mark paints, designs posters, goes to his son's baseball or soccer games. He plays mandolin and harmonica, but not at the same time. Every year on his birthday, he eats dry ribs and takes the family to a movie.
He has been illustrating/designing posters and marketing materials for the Birthplace of Route 66 Festival (3 years), and the Springfield Jazz Festival (5 years) earning multiple awards from the American Advertising Federation. Over his career at the City, I have won 9 Silver ADDYs, 5 Gold and one regional Gold for 2013's Jazz Festival poster. He also won the 2014 AAF Judge's Choice Award for Illustration for his Ozark Mountain Daredevils concert poster.
Send Message to listing owner
Listing Title: Mark Montgomery