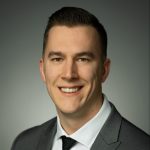 Profile
Jonah is a disciplined professional with a strong background in financial services, insurance and marketing professional services. Currently, he works for BKD CPAs and Advisors as a National Industry Marketing Specialist where he supports the national marketing efforts of BKD's National Construction & Real Estate Group. He also leads the national marketing efforts for BKD's Accounting Outsourcing Services Practice.
Throughout his career, he regularly led teams in developing marketing and advertising campaigns and was known for many of his skills including: market research, marketing strategy, social media marketing, content marketing, campaign development, event planning, presenting, public speaking and more. Jonah takes great pride in his quest for excellence both in his personal life and career and holds numerous, industry-recognized certifications. He is also a member of the American Marketing Association (AMA), the American Advertising Federation (AAF), Springfield Creatives (SGFC) and the Social Media Task Force for the Construction Financial Management Association (CFMA).
He is a graduate of Missouri State University, Springfield, Missouri, with a B.S. degree in marketing and entrepreneurship (double major). Jonah is also pursuing his M.B.A. with a graduate certificate in management.
____
https://www.linkedin.com/in/jonahnadeau/
https://twitter.com/jonahnadeau
Send Message to listing owner