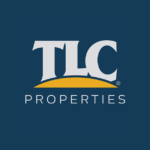 Profile
TLC Properties was founded in May of 1988 by Sam and Carol Coryell. The Coryells, who taught music at a local university, had a desire to establish a real estate business as a way to supplement their income and to fulfill a dream of owning their own business.  Purchasing three single-family homes and a small ten-unit apartment community, they soon recognized the opportunities in multifamily rentals, decided that this was their niche in the rental market, and began to aggressively pursue multifamily development.
By 1993, Sam and Carol had acquired about 40 units and decided to expand by building a four-plex at an existing community. With the initial success and a goal of owning 100 units, they started a second development, which when completed in 1996, gave them a total of 150 units. In 2012, TLC Properties began managing for property owners outside of the family. TLC currently manages 28 multifamily apartment communities, consisting of 3,963 units with an additional 960 units scheduled for completion by 2022.
Sam and Carol, both of whom have doctoral degrees, believe that the discipline, organizational skills, perseverance, and aesthetic sensitivity gained in their educational pursuits and career have contributed greatly to their success in
multifamily development. Sons Sam M., Daniel and David have played vital roles in the continuing development of the company. TLC Properties aims, as the centerpiece of its operational mission, to protect the value of the assets entrusted
to their care and to protect the reputation of the asset owner through superior customer service to residents. TLC Properties is known for its well-maintained apartment communities, featuring amenities such as luxury pools, dog
parks, fitness facilities, recreation rooms, smoothie bars, tanning beds and movie theaters. They take pride in their high-quality properties and their customer care. The company has won numerous awards and recognitions, including the best property management company by Springfield News Leader, for ten consecutive years.
___
Angela Frizell - marketing@tlcproperties.com
Send Message to listing owner